Frederick Community Events
To learn more about any of these events, please click on the event titles below.
Frederick Celebrates Black History Month
Baltimore Washington Conference Maryland
Legislative Advocacy Day 2020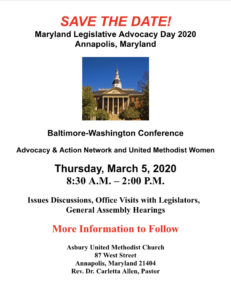 Ecumenical Advocacy Days
2020 National Gathering
April 24th-27th Washington DC
Click on the picture below to be directed to the web page for more information and to register

The following video was recorded last year as part of the Evolution Weekend events that a group of pastors and lay leaders of the church put forward to promote and encourage the conversation between religion (faith) and science. We share the conviction that science, religious practice, and the theological enterprise should not be at odds with one another: instead, each field should inform each other in an array of issues utilizing the best scientific research, religious commitments, and theological thinking. This conference was on the matter of the Global Community and the Science of Human Origin (you could fast forward to 25 minutes for the presentation itself, the first 25 minutes have more to do with the work of WesleyNexus). Enjoy the presentation, and feel free to share.